Not too long ago, we got the chance to review Transcend SSD220s. It's decently priced, and the performance is just as expected from a storage device of its class. This time, let's all focus our attention on this budget-oriented SSD from Plextor, the Plextor M8V SSD. It boasts a relatively decent sequential write speed up to 520MB/s  and sequential read speed up to 560MB/s. We're here to check everything out, and see how well it fairs in real experience.
We want to make things as close to the real experience as possible. We will drop benchmark findings to put technical context on our tests. If you're looking for a more technical review, we highly encourage you to drop by Back2Gaming and TechPorn after reading our review. It's also a good way of verifying the results of our review.
Packaging and Build
As an entry-level SSD, it isn't surprising to see this to be in a rather non-premium cardboard box. It's a no-frills retail box, which basically contains the SSD and production installation documents. What we got is the 512GB variant, but if your budget is quite tight, Plextor also offers 128GBs and 256GBs.
The SSD is inside a metal enclosure with shock and vibration proof features. We didn't get the chance to disassemble it because we didn't want to mess things up, unlike our hardcore review sites counterparts. However, based on the teardown and review of SSDReview, this hard drive's SATA controller is an SMI 2258 4-channel SATA controller with 64-layer 3D TLC by Toshiba.
Test and Benchmark
We wanted to test the capability of this hard drive so decided to set this up as our system drive. However, before doing this, we thought of isolating it by setting it as a logical drive without OS or boot configurations. With this testing methodology, we will be seeing how fast it in various setups.
For your reference, below are the specifications of our testbed:
Motherboard: ASUS ROG Maximum IX Hero
CPU: Intel Core i7-7700K
Memory: Corsair – Vengeance LED 16GB (2 x 8GB) DDR4-2666 Memory
OS Storage: Samsung – 840 EVO 250GB 2.5″ Solid State Drive
Case: NZXT – S340 (White) ATX Mid Tower Case
CPU Cooler: Hyper 212 EVO 82.9 CFM Sleeve Bearing CPU Cooler
In this series of tests, we'll test the Plextor M8V read and write speeds in a number of circumstances with some benchmarking tools and also monitor its temperature at various states. As this may just seem like a bunch of numbers, let me give a brief explanation as to what each one does.
HD Tune Pro – This tool on the other hand, also checks for the drive's health,  scans it for any errors, and measures its raw raw performance.
ATTO Disk Benchmark –  An industry-leading benchmark tool for SSD's and HDD's that measure performance using file file transfers of different sizes.
CrystalDiskMark -This tool is used to measure the SSD's sequential read and write speeds. That means how fast files can be read from and written to the drive, usually measured in MB/s.
I would also like to disclose that we formatted the SSD at 1024K sector size. Also, feel free to use to slider to easily and visibly compare the performance of the SSD at 2 setups.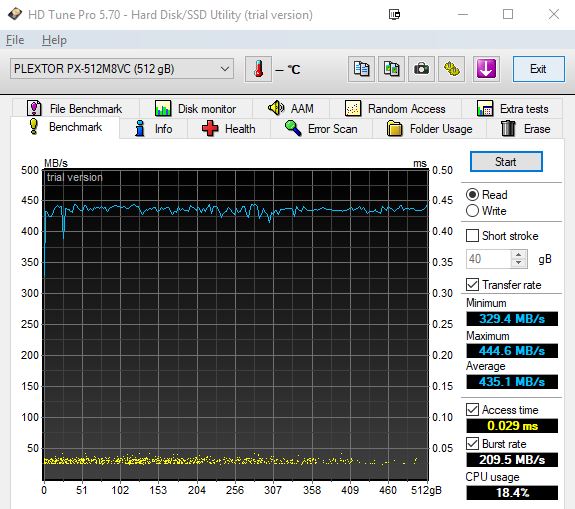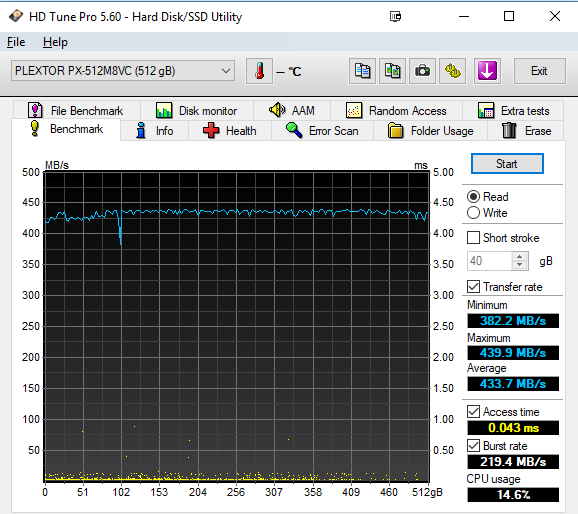 I must say that the SSD's performance is impressive as a secondary drive or as an OS Storage. While average transfer rate is much (obviously) faster when the SSD is isolated, the performance difference when it's installed as OS storage is quite slim.
HD Tune Pro (Read Benchmark)
In terms of read rate, our HD Tune Pro benchmark showed impressive performance especially when transfer size is higher than 64kb. It achieved an average speed of 435MB/s when disk is isolated, and 439MB/s when disk is set as OS storage.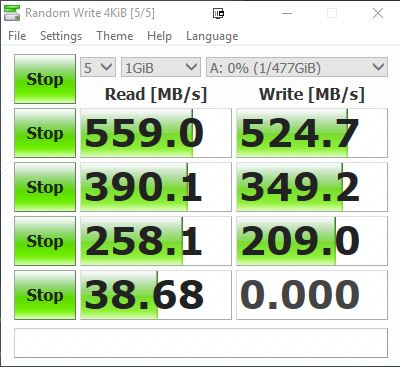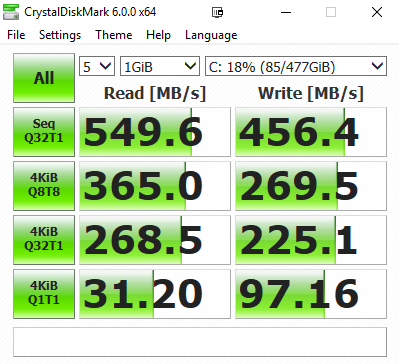 CrystalDisk Mark uses random data sampling to measure the read and write speed of the benchmark. At isolated setup, the disk almost achieved its published read speed at 559MB/s. Its performance is a little slower when we set it up as OS storage at 549MB/s.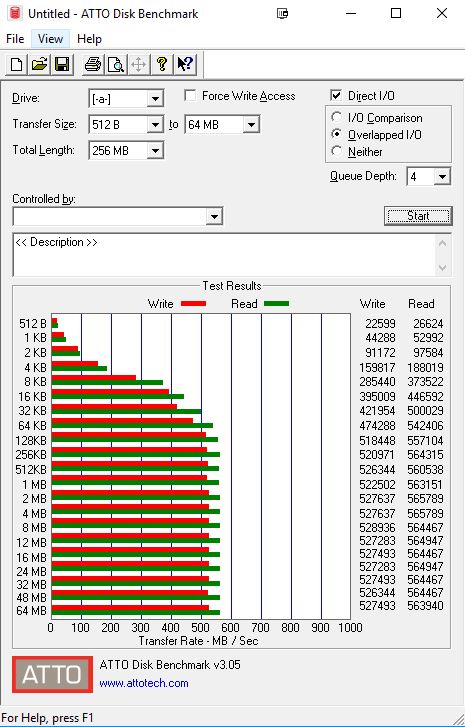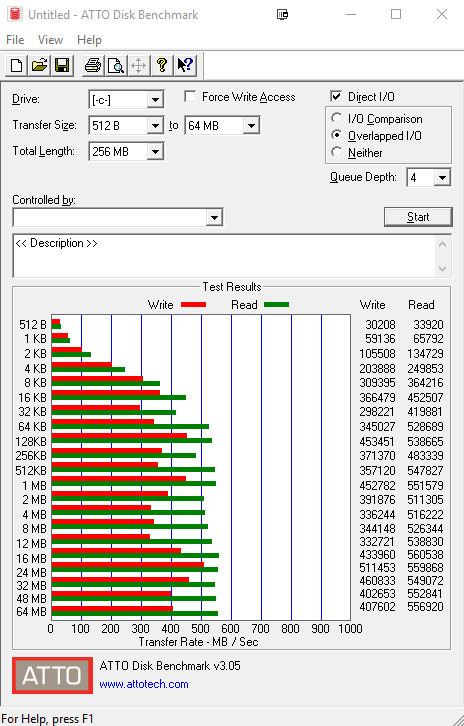 Using ATTO Disk Benchmark, we further confirmed how impressive this SSD is. Its speed reached a phenomenal read rate of 556MB/s and a write rate of 527MB/s. Its performance gets a little more erratic when the disk is used as OS storage.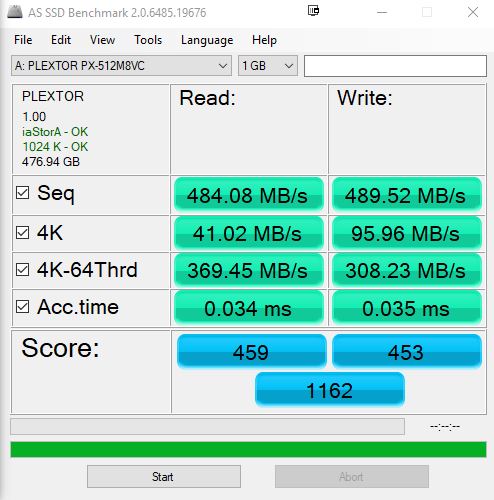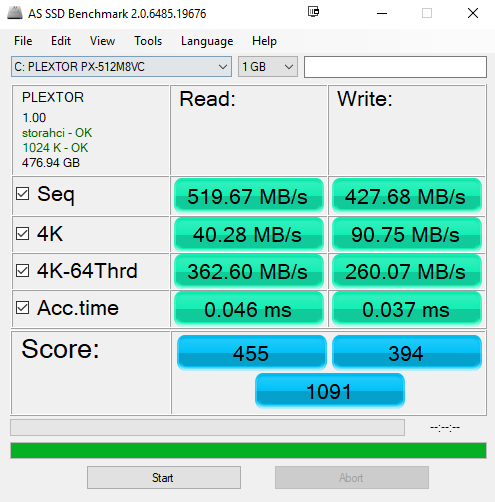 AS SSD is our favorite SSD benchmarking tool. Based on the result of our benchmark, Plextor M8V reached 484MB/s and 489MB/s at Sequential Read and Write operations accordingly.
Verdict
Plextor M8V is definitely a pleaser. It matched our expectations and managed to surprise us with its raw performance as a secondary drive or even an OS storage. Its outstanding read/write speeds are very close to its published performance, and for that, we're highly impressed.
Leave a comment