Today, we're doing a full scale comparison between two mid-range devices from two respectable brands – one sports a standard design, and the other is the company's first to have a motorized camera system.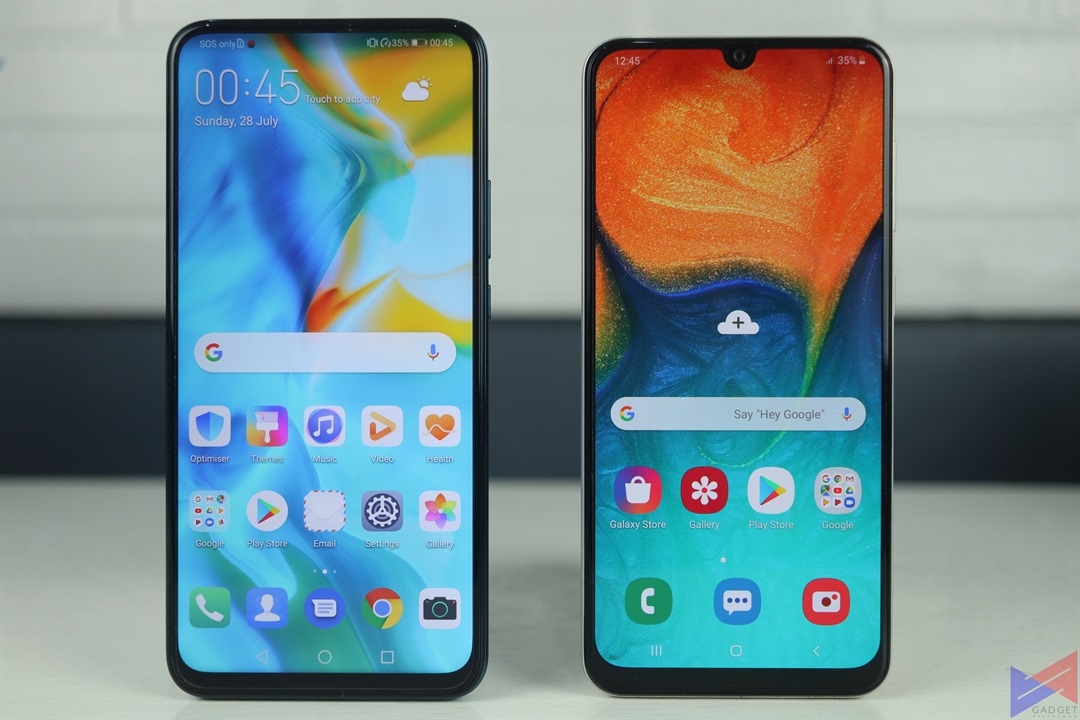 We'll be diving into the various aspects of each device – design, performance, camera, software, and battery life. At the end of each section, a winner will be declared and will be given a point. The phone with the most points will be the winner. Let's take a look at our contenders.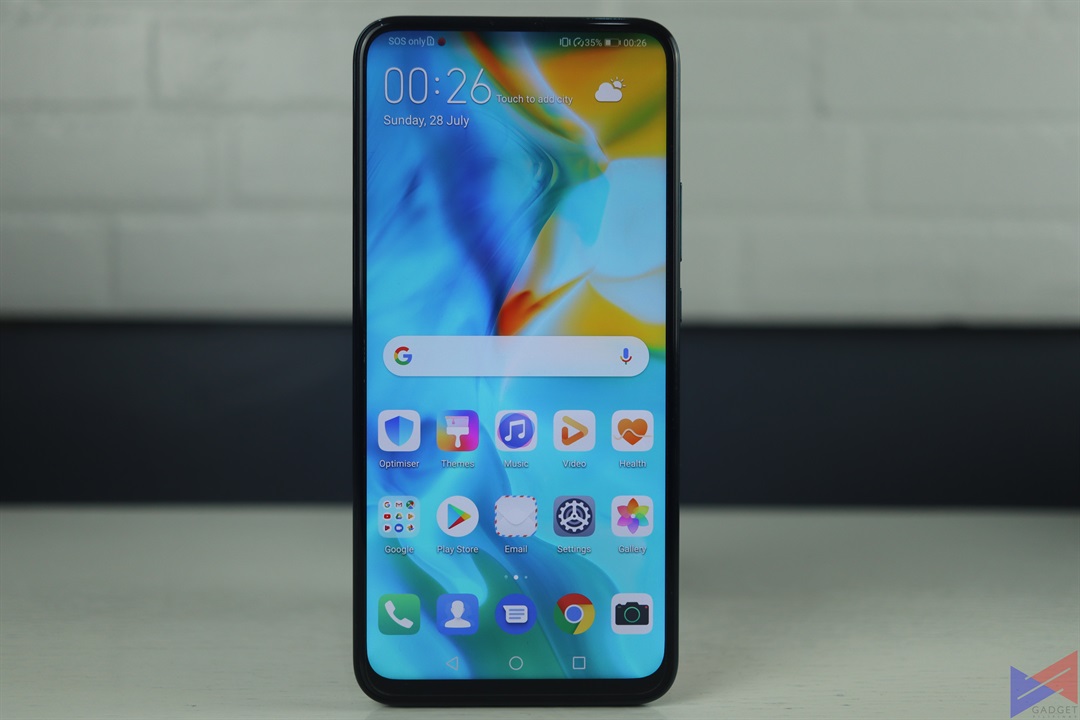 On one side, we have the Huawei Y9 Prime 2019. Fresh off the launchpad, this device marks a milestone for the brand, being its first smartphone to have a pop-up selfie camera.  It uses a Kirin 710F, which is a variation of the regular Kirin 710 – a processor that's been the company's mainstay for its mid-range devices. It has a trio of rear shooters which open up a lot of possibilities for different shooting conditions.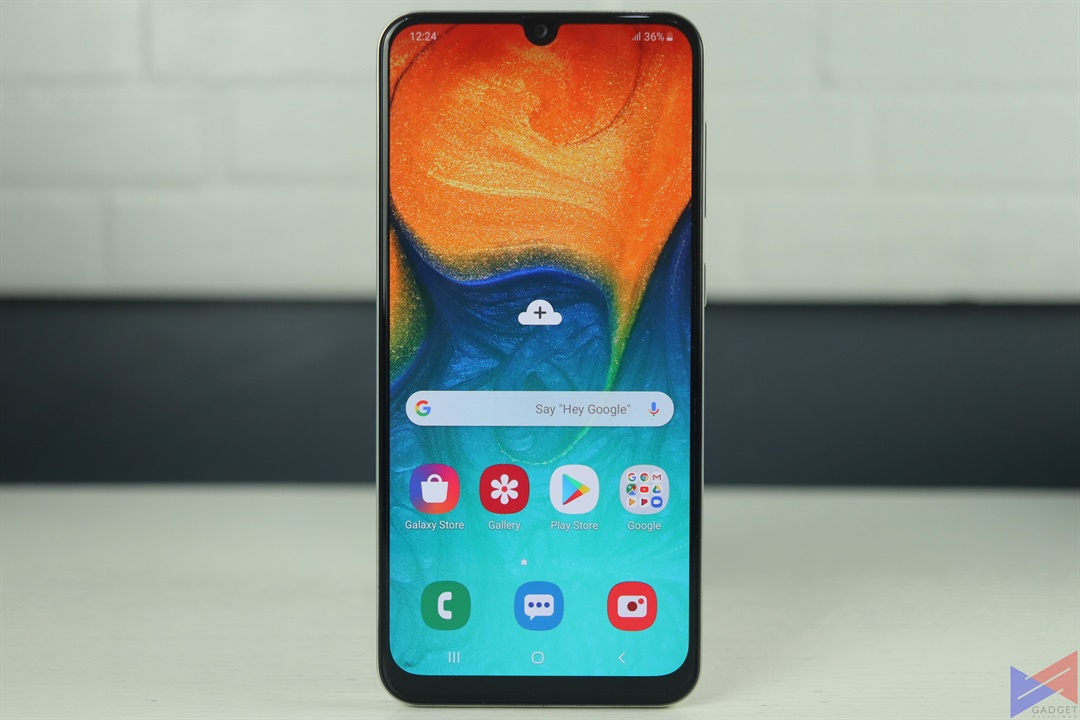 On the other side is the Samsung Galaxy A30, which we first saw in Thailand back in January. With the company streamlining its lineup and pricing, the recent Galaxy devices in the mid-range and budget segments have been getting a lot of attention. At the helm of the device is an octa-core Exynos 7904 backed by a dual camera system, and Samsung's OneUI.
Both devices pack 4GB of RAM, and a 4,000mAh battery, and are only separated by PhP1,000 in price – Y9 is PhP12,990, A30 is PhP13,990. That makes this comparison even more interesting.
Design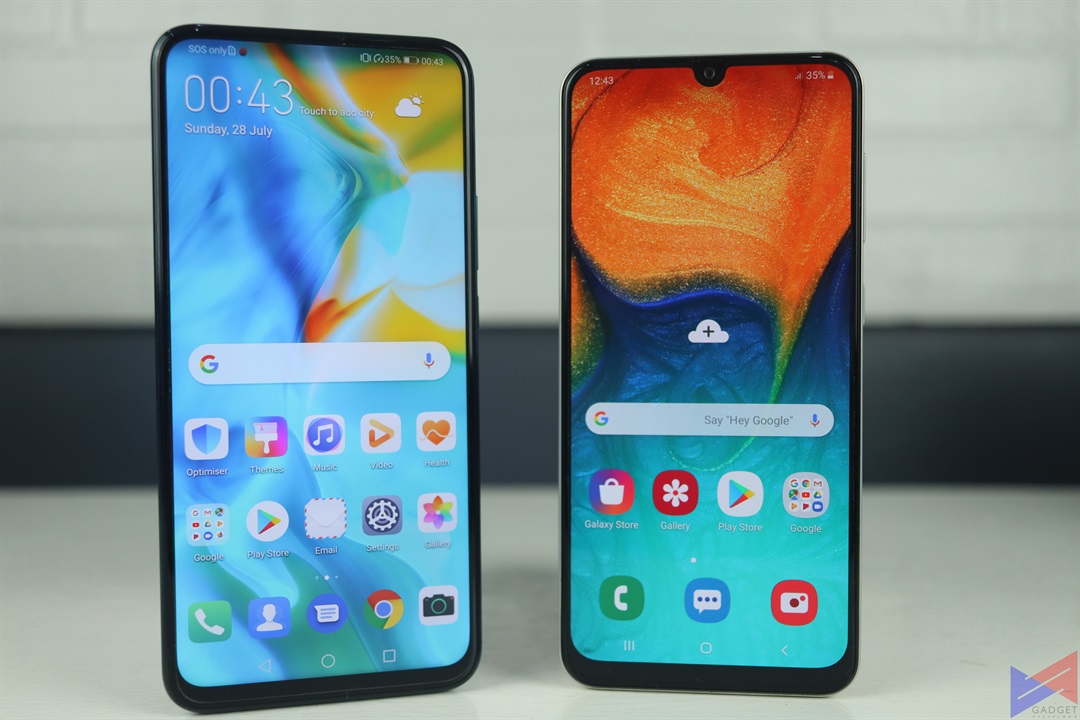 Both phones boast a glossy back, the A30 uses single gradient across the entire back panel, while the Y9 Prime 2019 uses a new style that involves two gradients. Both can be used with one-hand without problems, despite the latter's larger footprint.
Button placement is the same for the two devices – Both the Power button and Volume Rocker are on the right. The SIM slot for the A30 is placed on the typical position on the left, the one on the Y9 is located up top. The former has a triple slot tray,  but the latter sticks to a Hybrid SIM tray, which is kind of odd for a phone in 2019.  Both are also equipped with a headphone jack and a USB-C port.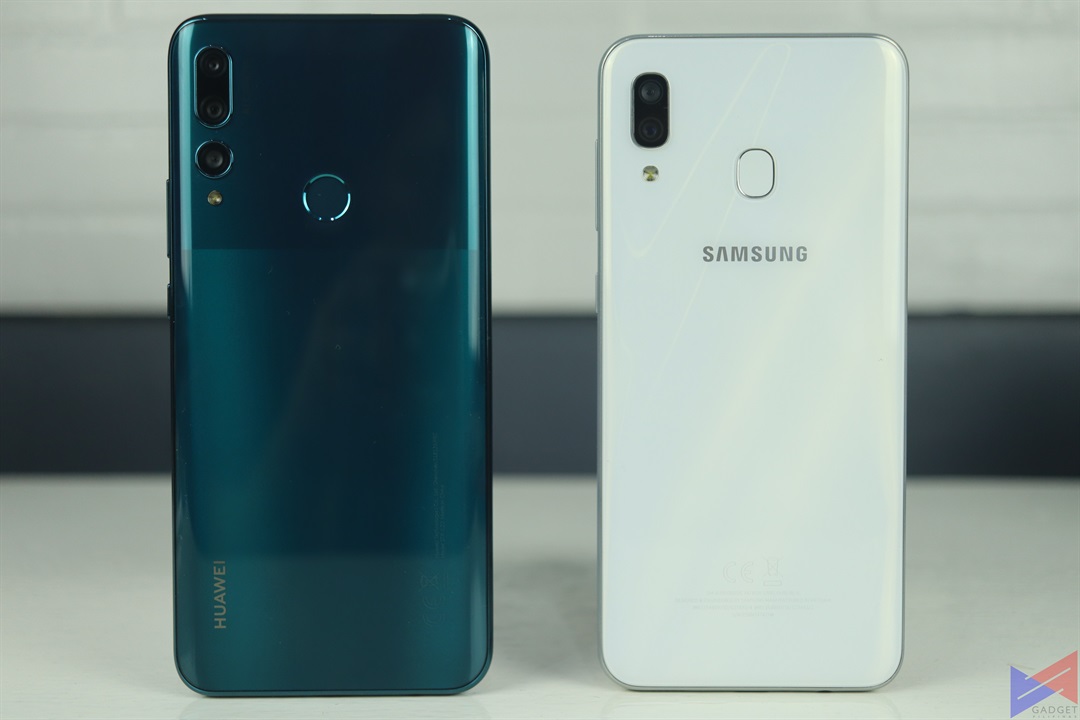 The camera modules on both phones protrude, but not to a point that it ruins the feel. Speaker placement isn't the most ideal for either one, as it's placed on the bottom-right, an area that may get covered by the user's hand when in landscape mode.
Display-wise, it's a 6.4-inch Super AMOLED screen for the A30, and 6.59-inches for the Y9 Prime 2019. As expected, Galaxy A30 excels in creating a lively vibe with punchy colors. The Y9 Prime on the other hand, get right back with a bigger and more seamless display.
Winner: While I do like the triple slot tray that the A30 has, I'd give the point to the Y9 Prime 2019 here, as it's a better looking device overall.
Performance
First, we'll run our usual benchmarks on both devices – AnTuTu, Geekbench 4, and 3DMark.
| | | |
| --- | --- | --- |
| Benchmark | Huawei Y9 Prime 2019 | Samsung Galaxy A30 |
| AnTuTu | 130779 | 106057 |
| Geekbench 4 (SC) | 1568 | 1327 |
| Geekbench 4 (MC) | 5538 | 4118 |
| Geekbench 4 (Compute) | 3748 | 3719 |
| 3DMark Slingshot | 1475 | 836 |
From benchmarks alone, the Y9 Prime 2019 shows a significant lead over the A30. But then again, that's not always reflective of real-world performance.
What better way to test out a phone's performance than to game with it, so we played PUBG Mobile and Mobile Legends on both phones to see which can run them with good frame rates, and more importantly, which device is better at sustaining  its performance. For this test, we used GameBench to measure FPS, CPU usage, and more.
Mobile Legends (Max Settings)
| | | |
| --- | --- | --- |
| | Huawei Y9 Prime 2019 | Samsung Galaxy A30 |
| Average FPS | 60.14 | 29.99 |
| Maximum FPS | 61 | 31 |
| Minimum FPS | 58 | 27 |
| FPS Stability | 100% | 100% |
| Average CPU Usage | 0.64% | 0.56% |
| Max CPU Usage | 0.88% | 1.05% |
| Average RAM Usage | 21MB | 41MB |
| Max RAM Usage | 22MB | 42MB |
| Estimated Playtime | 7h | 8h 25m |
Not much explaining to do here. The Y9 Prime 2019 can run Mobile Legends with High FPS mode ON. Thus, you get smoother and more fluid visuals. The A30 doesn't have that option, but can run the game at a decent 29.99 fps on average, and gives you more uptime in a single charge.
PUBG Mobile (HD + High FPS)
| | | |
| --- | --- | --- |
| | Huawei Y9 Prime 2019 | Samsung Galaxy A30 |
| Average FPS | 29.96 | 28.24 |
| Maximum FPS | 32 | 32 |
| Minimum FPS | 27 | 19 |
| FPS Stability | 100% | 90% |
| Average CPU Usage | 12.40% | 21.48% |
| Max CPU Usage | 17.66% | 36.40% |
| Average RAM Usage | 906MB | 539MB |
| Max RAM Usage | 947MB | 583MB |
| Estimated Playtime | 5h 37m | 4h 50m |
This time, the fight's a bit more neck and neck as far as average FPS is concerned, though the Y9 Prime 2019 shows its prowess at maintaining optimal performance, as shown by a 100% FPS stability. It uses up less CPU, but more RAM.  It also yields more uptime.
Winner: From benchmarks to actual gaming performance, the Y9 Prime 2019 pulls ahead of the Galaxy A30 in most areas.
Camera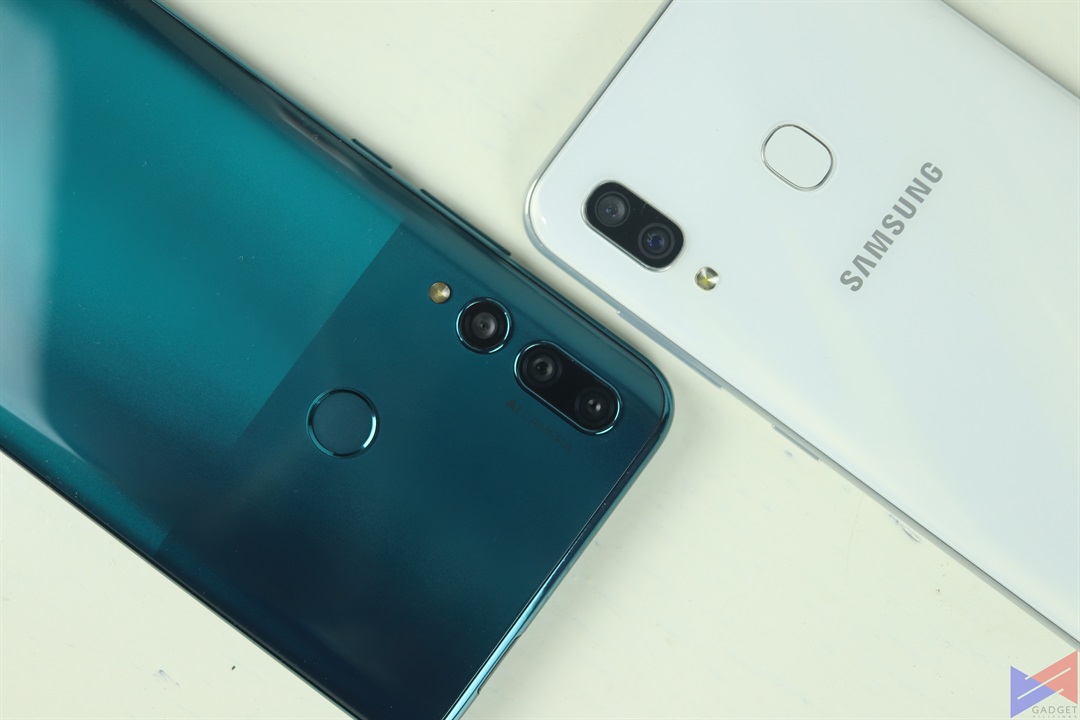 While one may initially say that three shooters are better than one, well, that isn't always the case (Looks at you, Google Pixel). We tested the cameras of both phones to see how they'll hold up in terms of detail, color reproduction, depth of field accuracy and edge-detection.
Detail, Exposure
For the first test, the photo taken by the A30 shows better detail on the gold parts, while the one taken by the Y9 Prime 2019 is overexposed in some parts.
Depth of Field, Exposure
While the depth of field effect looks more refined on the Y9 Prime 2019, the AI seems to be quite aggressive in amping up the exposure level, that it ends up looking less than ideal. For the A30, I would've liked a bit more intensity in the effect, but it got the exposure right.
Color Reproduction, Texture
While I do like the saturation on the A30's photo, I'll pick the one taken by the Y9 Prime 2019, as it was also able to capture the finer details on the popsickle sticks.
Selfie, Depth of Field
Well, no question here. The Y9 Prime 2019 certainly needs work on analyzing which areas to blur and not. The photo taken by the A30 on the other hand, is better exposed, and has a more accurate depth of field effect.
Low-Light
In this low-light shot, the photo taken by the Y9 Prime 2019 certainly shows better color reproduction and detail.
Winner: For this mini-camera showdown, I'd give half a point to the A30 for better quality overall, and half a point to the Y9 Prime 2019 for its low-light capability and added features such as the dedicated wide-angle camera that opens up various possibilities in certain shooting conditions.
Software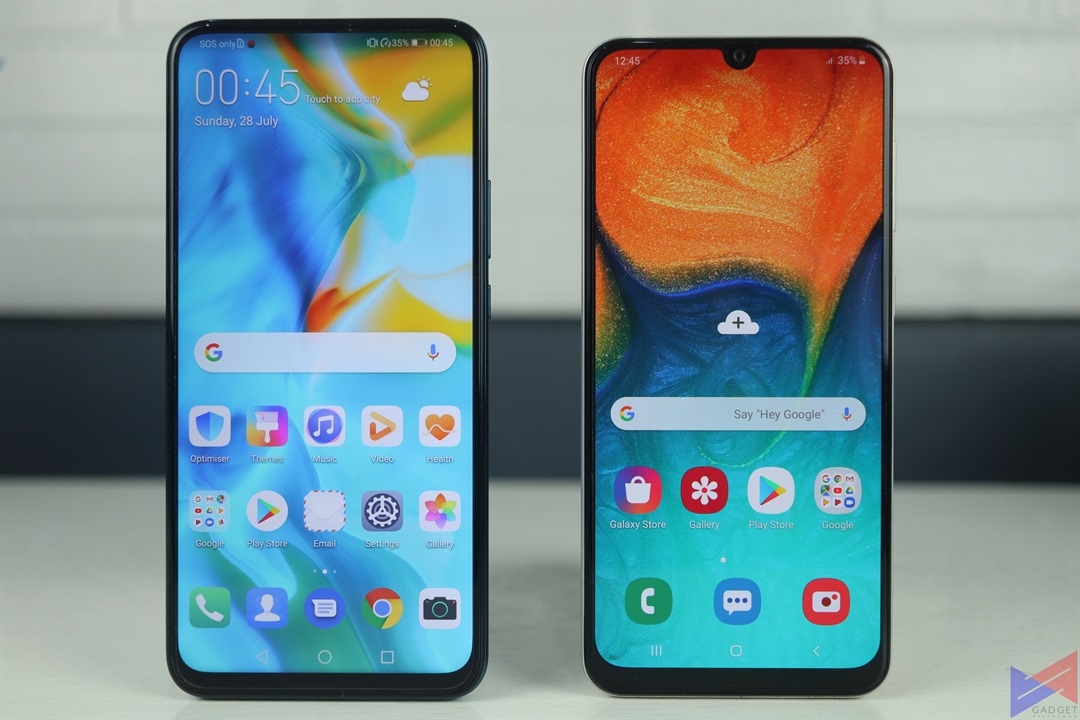 Samsung's OneUI is a huge step up versus TouchWiz, and looks better overall with its rounded icon design and more colorful motif. Its menus are well organized and are quite straightforward, to the benefit of beginners.
Some options could've been placed one level up in the menu like the option to enable Flip Selfies, so you go through less screens, and it could use a bit more options in the camera settings in general, such as picture size, aspect ratio, etc.
EMUI on the other hand, has also benefited from some visual changes, and offers an experience that's closer to stock. You get decent customization options too.
The only thing I'm baffled about is why Huawei did not include a Face Unlock feature, which is present in just about every other device that has a popup selfie camera. As far as performance is concerned, both show great optimization, and run smooth and fluid with no issues.
Winner: Though OneUI is more eye-candy, EMUI is more functional, and that's what I'm after. So yes. They Y9 Prime 2019 takes the point.
Battery
This time, I didn't use the typical PCMark battery test, but the old-school test of having a video play on loop continuously until the battery is empty. Volume is set to 80% and brightness is at 50%.
As for the results, both devices will most likely last at least for almost a full day of video playback, which is brilliant. Charging time for both devices is also almost the same, about 2 hours.
Winner: A draw. Both devices offer the longevity that you'll need to get through that typical work day without having to run to a wall socket to charge. Maybe it'll even have enough for your trip home.
Verdict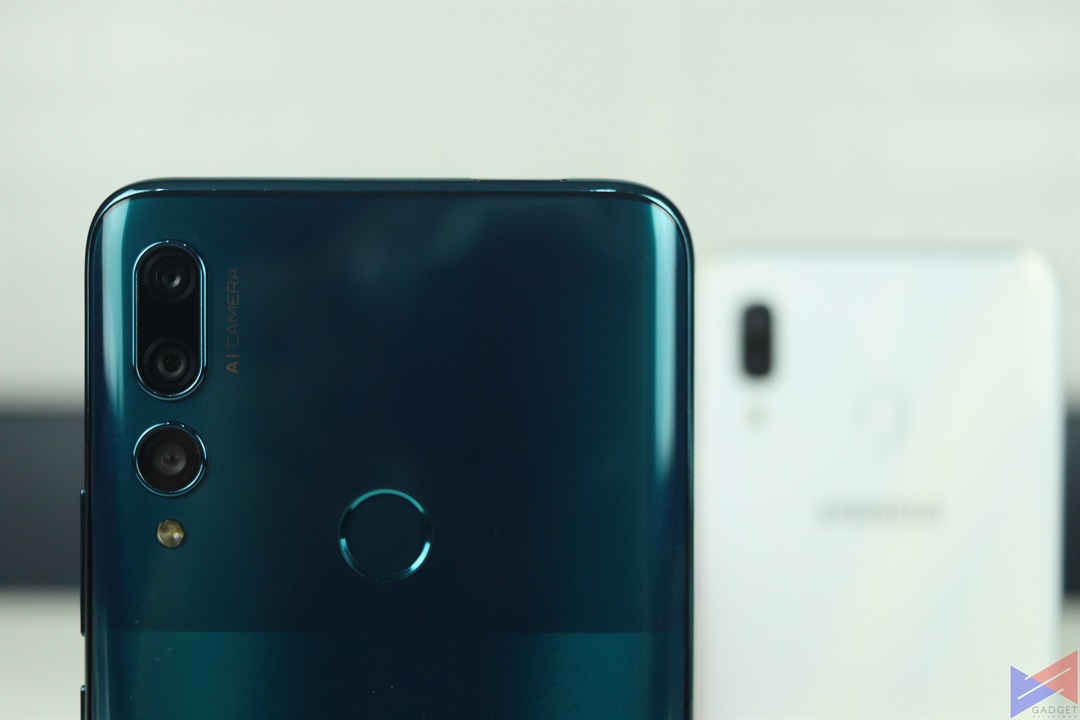 Basically winning in almost every aspect, the Huawei Y9 Prime 2019 claims the victory in this showdown. It offers better looks, better performance, and great battery life. The Galaxy A30 is in no way a slouch, but it just fell short in some areas, especially in gaming performance.
On the contrary, there are a few things that the Y9 Prime 2019 could learn from the A30, such as better exposure, and a more refined and accurate depth of field effect. Overall though, the Huawei Y9 Prime 2019 still offers better value for money.
Leave a comment